Auto Glass Repair in Newark, DE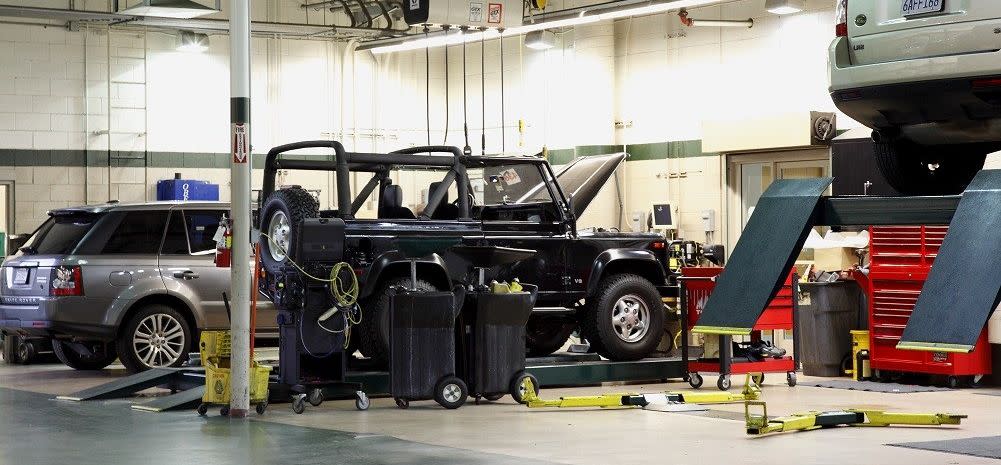 Whether your vehicle's windshield has recently suffered from a minor chip or severe crack, the experts at Newark Toyota World are here to help. We can fix minor blemishes with ease and can even handle full replacements if that's what it's going to take to get your view of the road as pristine as it once was. Get started today at 13 Christopher Lane in Newark, DE!
Why is it Important to Fix Your Windshield?
Although you may be tempted to leave that hairline fracture in your windshield alone, we highly advise against that inclination. It may not be distracting your driving at the moment, but that small crack can get worse and worse until the only way to fix it is to entirely swap out your vehicle's windshield. Unfortunately, this procedure is much more costly than it would have been if you had fixed your glass in the first place. Keep your wallet happy and your budget in order by making sure to handle this repair as soon as you can!
Our Service Department
We aim to make sure our clients always have a place to go when their vehicles are in need of some expert attention—that's why we keep the doors to our Service Department open for seven days out of the week! When you let our technicians know that your windshield needs work, they'll quickly assess the damages to determine whether it needs to be repaired or replaced. Either way, you'll be back out in no time at all since both procedures can be performed within an hour. To save yourself a timeslot, schedule your appointment from our intuitive website!
Low Prices
If your goal is to save money, you'll be happy to hear that you'll likely find more ways than one to keep your hard-earned money in your wallet when you stop into Newark Toyota World. To start, our rates are more than reasonable, so you won't have to worry about paying an arm and a leg to fix your windshield. On top of that, we provide coupons on our website that will give you even better discounts when you come in. To see what we are currently offering, move your cursor to the Specials tab above and then select Service Specials from the drop-down menu. If you don't find something that works for you, check back in a few days. We are constantly putting new offers up, so stay posted!
Get auto glass repair in Newark, DE, by stopping into the Service Department here at Newark Toyota World. Our mechanics can't wait to get to work, so pay us a visit as soon as you can!
Testimonials
GOOGLE
1-10-2020
GOOGLE
1-9-2020
GOOGLE
1-8-2020
GOOGLE
1-8-2020
"Purchased my first sienna, we have been an odyssey driver..."
DEALERRATER
1-7-2020
Purchased my first sienna, we have been an odyssey driver...
CARS
1-7-2020
GOOGLE
1-6-2020
GOOGLE
1-5-2020
GOOGLE
1-4-2020
GOOGLE
1-4-2020
GOOGLE
1-2-2020
GOOGLE
1-2-2020
GOOGLE
1-1-2020
GOOGLE
12-31-2019
GOOGLE
12-29-2019
GOOGLE
12-28-2019
GOOGLE
12-27-2019
GOOGLE
12-25-2019
9 to 5 Pawn & Jewelry stores.ebay.com/9to5pawnshop
GOOGLE
12-24-2019
GOOGLE
12-23-2019
GOOGLE
12-21-2019
GOOGLE
12-20-2019
GOOGLE
12-20-2019
GOOGLE
12-19-2019
GOOGLE
12-18-2019
GOOGLE
12-17-2019
GOOGLE
12-16-2019
GOOGLE
12-16-2019
GOOGLE
12-15-2019
GOOGLE
12-15-2019
GOOGLE
12-15-2019
GOOGLE
12-14-2019
GOOGLE
12-14-2019
GOOGLE
12-13-2019
GOOGLE
12-13-2019
GOOGLE
12-13-2019
GOOGLE
12-12-2019
GOOGLE
12-12-2019
GOOGLE
12-12-2019
GOOGLE
12-12-2019
GOOGLE
12-12-2019
Read More
Newark ToyotaWorld Service Hours
302-283-2306
| | |
| --- | --- |
| Monday | 7:00 am - 8:00 pm |
| Tuesday | 7:00 am - 8:00 pm |
| Wednesday | 7:00 am - 8:00 pm |
| Thursday | 7:00 am - 8:00 pm |
| Friday | 7:00 am - 8:00 pm |
| Saturday | 7:00 am - 5:00 pm |
| Sunday | 9:00 am - 4:00 pm |