Oil Change Service in Newark, DE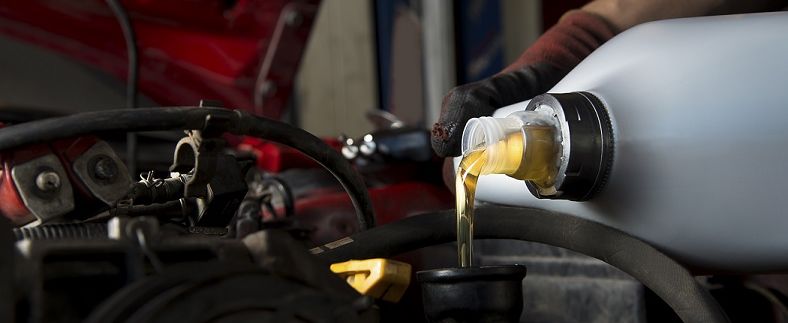 You may be surprised to hear that far too many drivers neglect to have their vehicle's oil changed as regularly as they should. Though doing so may not seem like a big deal, it can actually have quite a dramatic impact on your trusty ride's performance and longevity. Therefore, if you're due for an oil change, you should swing by Newark ToyotaWorld's service bay for top-notch care today. You'll find us at 1344 Marrows Road in Newark, DE!
Why Do I Need an Oil Change?
For many, this is the golden question. In order to explain, it's important to have a basic understanding of your engine's mechanics. Essentially, oil acts as a lubricant for the multiple moving parts within your powertrain to reduce undesirable metal-on-metal contact. However, after a period of time, your supply of oil becomes dirty and congealed, significantly reducing its effectiveness and causing unwanted friction. Left unattended to, this could permanently damage your engine and cause a variety of other mechanical issues down the road. Thankfully, our service staff is here to assist!
Attentive Care
Though you can check your oil level and condition by examining the dipstick, we completely understand that many individuals would prefer to leave this to the professionals. That's where we come in! Our mechanics are equipped with the knowledge and tools to tackle jobs big and small, so don't hesitate to ask us for clarification about any type of service. For your oil change, we'll simply remove and dispose of your old batch and replace it with either conventional or synthetic oil, depending on your vehicle and your own personal preferences. Though the timeline can vary, we recommend having your oil changed every 5,000 miles or so.
Useful Tools
Whether you're planning to stop by soon or just have a question on your mind, the intuitive tools on our website are at your disposal 24/7! If you think that you're due for a few repairs, take a look at our current service specials to see if we're offering any coupons that could help you save some money when you visit. For even more convenience, consider making an appointment with our handy online scheduling tool, so you get a timeslot that suits your lifestyle. In a rush? No problem! We offer Toyota Express Maintenance, making it a breeze to receive the necessary repairs in a timely manner. Don't hesitate to give us a call to learn more about this program!
For an oil change service in Newark, DE, that you can depend on, look no further than Newark ToyotaWorld. Our Service Department is ready to assist, so swing by today to see how we can help. We'd love to meet with you soon!
Sales Hours
(302) 283-2305
| | |
| --- | --- |
| Monday | 9:00 am - 9:00 pm |
| Tuesday | 9:00 am - 9:00 pm |
| Wednesday | 9:00 am - 9:00 pm |
| Thursday | 9:00 am - 9:00 pm |
| Friday | 9:00 am - 9:00 pm |
| Saturday | 9:00 am - 5:00 pm |
| Sunday | 11:00 am - 4:00 pm |
Testimonials
GOOGLE
1-10-2020
GOOGLE
1-9-2020
GOOGLE
1-8-2020
GOOGLE
1-8-2020
"Purchased my first sienna, we have been an odyssey driver..."
DEALERRATER
1-7-2020
Purchased my first sienna, we have been an odyssey driver...
CARS
1-7-2020
GOOGLE
1-6-2020
GOOGLE
1-5-2020
GOOGLE
1-4-2020
GOOGLE
1-4-2020
GOOGLE
1-2-2020
GOOGLE
1-2-2020
GOOGLE
1-1-2020
GOOGLE
12-31-2019
GOOGLE
12-29-2019
GOOGLE
12-28-2019
GOOGLE
12-27-2019
GOOGLE
12-25-2019
9 to 5 Pawn & Jewelry stores.ebay.com/9to5pawnshop
GOOGLE
12-24-2019
GOOGLE
12-23-2019
GOOGLE
12-21-2019
GOOGLE
12-20-2019
GOOGLE
12-20-2019
GOOGLE
12-19-2019
GOOGLE
12-18-2019
GOOGLE
12-17-2019
GOOGLE
12-16-2019
GOOGLE
12-16-2019
GOOGLE
12-15-2019
GOOGLE
12-15-2019
GOOGLE
12-15-2019
GOOGLE
12-14-2019
GOOGLE
12-14-2019
GOOGLE
12-13-2019
GOOGLE
12-13-2019
GOOGLE
12-13-2019
GOOGLE
12-12-2019
GOOGLE
12-12-2019
GOOGLE
12-12-2019
GOOGLE
12-12-2019
GOOGLE
12-12-2019
Read More